As one of the largest life sciences clusters in Europe, Scotland is the home of ground-breaking research and invention in human healthcare and technology.
Employing...
over 41,000 people across 770 organisations.
Contributing...
£2.4bn in GVA to the Scottish economy.
Glasgow's thriving Life Sciences sector, underpinned by a robust partnership of academia, industry and the NHS, provides ideal conditions for health innovation to flourish.
With four universities, the largest acute hospital complex in Western Europe and a world-leading talent pool, the region produces and attracts international leaders in precision medicine, medical technology, and translational medicine.
Led by the prestigious University of Glasgow, the city is now a world leading and business-friendly centre for precision medicine and imaging, providing unique access to 'cradle to grave' electronic patient records and data, easy access to clinical trial infrastructure, partner identification, logistical and financial support.
In dealing with the COVID-19 pandemic, Glasgow City Region has drawn on strengths in research, innovation and entrepreneurship to help tackle new societal challenges and provide a platform to recover and re-build.
The collective response across the city region has been remarkable, with multidisciplinary approaches to collaborate across the public, private and academic sectors to deliver results at pace.
Click here to explore the breadth and depth of regional activity.
More than 380 Life Sciences companies…
in the Glasgow city region turn over £325m annually, employ over 10,000 people and represent over one third of Scotland's total sector base (incl. 50% of MedTech companies).
Glasgow is one of only 12 major European cities…
to boast a global top 50 university for Life Sciences.
The £1bn Queen Elizabeth University Hospital…
developed in partnership between NHS Greater Glasgow and University of Glasgow, is the largest critical care complex in Western Europe.
Regional strengths
Glasgow, its universities, research institutes and hospitals sit at the heart of the city region, underpinned by a robust and innovative partnership across industry, academia and the public sector and supported by a well-established and complex supply chain.
The Glasgow Lighthouse Lab, operated by the University of Glasgow on behalf of the UK Government, has played a vital role in identifying positive COVID-19 cases and helping reduce transmission of the virus since starting operations in April 2020.
Staffed around the clock, more than 20m PCR tests from across the UK have been analysed at the lab to date, with many tests genomically sequenced to identify and track any new variants.
The region is also home to world-class R&D centres of excellence, including the University of Glasgow-led Imaging Centre of Excellence (ICE), Clinical Innovation Zone, and the Precision Medicine Scotland Innovation Centre (PMS-IC) at the Queen Elizabeth University Hospital (QEUH) site.
The PMS-IC brings together industry innovators, clinicians and world-class researchers to collaborate on Precision Medicine opportunities. It focuses on linking Scotland's domain expertise, data assets and delivery capability to accelerate the adoption of new products and services for a global market. The Innovation Centre was established by a consortium of partners from 4 Scottish NHS Health Boards, 4 Scottish Universities and 2 industrial partners in informatics: Aridhia Ltd and in genetics with ThermoFisher Scientific Ltd.
The quality of research from the four Precision Medicine Scotland-Innovation Centre partner universities in precision medicine related subjects is higher than in other key university groupings in the UK.
Health innovation in the region is further supported by world-class infrastructure and facilities, including novel imaging technology and access to a patient base of 2.8m.
The £56m Medicines Manufacturing Innovation Centre, in partnership with the University of Strathclyde, will accelerate adoption of novel manufacturing technologies for small molecule pharmaceuticals and fine high value chemicals. The region is also home to one of the largest pathology laboratories in Europe and a large biorepository for high-quality clinical samples.
Previous research by Scottish Enterprise has indicated 30% of all the biosafety testing across Europe is done in Glasgow. SGS Vitrology, the world's leading inspection, verification, testing and certification company, is a topical example of Glasgow's distinct strengths. From the onset of the pandemic, SGS has batch developed and tested over 1 billion doses of COVID-19 vaccine for clinical trial.
The biosafety testing market is itself part of the wider "Pharmaceutical Services" sub-sector where the City Region in particular excels, by providing contract research services and the supply of key components of the supply chain.
Cluster strengths
The Glasgow BioCorridor ─ a biomedical cluster linking industry with public sector and academia ─ houses more than 380 life sciences companies, representing over a third of all life sciences enterprises and medtech companies in Scotland. Almost 75% of life sciences activity involves human healthcare and more than 25% of the region's top innovative technology firms are in the health and medical sectors, higher than in Manchester, Liverpool and Leeds.
Precision medicine is changing the way we think about health problems with a new generation of healthcare delivery which signifies a movement away from a one-size-fits-all approach to medical care, tailoring medical diagnosis and treatment to individual characteristics of patients. Companies can capitalise on Glasgow city region's strengths in the sector to launch their precision medicine application in the UK, Europe and globally. The global precision medicine market across major diseases is forecast to grow to £102bn by 2025.
Technologies which are transforming healthcare delivery, accelerated by the COVID-19 pandemic, include mobile and app-based technologies, wearable devices, how public health messages are both rapidly and effectively communicated, and the analysis and interpretation of data. In 2024, the total medical technology revenue globally is expected be nearly £450bn. Medical technology is used for diagnosis, monitoring, or treatment of diseases or medical conditions.
Assets and infrastructure
Scotland has a well-established ecosystem for precision medicine centred around the Scottish Government's investment in the Precision Medicine Scotland Innovation Centre and the QEUH. The combination of world-class clinical research, electronic health data, patient samples, NHS and large cohorts of patients with chronic disease differentiates Scotland from many other countries.
— Professor Victor Dzau, President of US National Academy of Medicine.
We are pleased to contribute to Scotland's health and economic growth, now and beyond the pandemic.
— LumiraDx Chief Executive Ron Zwanziger
View full success story
Scottish Enterprise has worked closely with the company in Scotland, Europe, US and Japan to provide business support. This has included work from SDI field colleagues in Japan and across Europe to help identify potential customers, as well as tailored company support on the ground in Scotland to look at new market opportunities globally and extend existing testing services.
— Dr David Bunton, CEO of ReproCELL Europe Ltd
View success story
Industry support
The Life Sciences Scotland Industry Leadership Group (LSS ILG) is a joint industry, enterprise of agencies and government strategy teams. Their remit is to develop, drive and deliver the Life Sciences strategy in Scotland.
The Life Sciences Scotland Company Directory lists over 1000 companies and organisations in the life and chemical sciences sector in Scotland. It doesn't only include companies but also academic organisations, research centres and trade associations.
SULSA is a strategic partnership between eleven Scottish Universities that aims to advance Scotland's research and innovation in the life sciences, and secure Scotland's global position as a world-class centre of research excellence.
Ecosystem
Glasgow city region's well-established precision medicine ecosystem can support your business with:
Extensive data records and real time patient data
Internationally renowned clinical trial infrastructure
Connectivity and coordination across academia, industry and healthcare
Company Focus
Precision Medicine
Medical Devices and Diagnostics
Digital Health
Pharmaceutical Services
Clinical Manufacturing
Both Universities of Strathclyde and Glasgow…
ranked in the top 16 institutions for producing spin-out companies in 2021 with 38 and 29 respectively.
Research & Development
Drive your research forward through collaboration with the region's leading global universities.
Every Scottish university was found to undertake research deemed "world-leading" in the latest UK benchmarking exercise. Scottish universities also have the highest number of publications per researcher across all UK nations and EU nations of similar size – 0.53 in Scotland vs 0.43 in Sweden and 0.38 in UK, and the highest average number of citations per researcher in these countries.
Scottish Universities were awarded 13% (£450m)…
of all UK funding through Biotechnology and Biological Sciences Research Council and Medical Research Council over the last 5 years.
Scottish universities also generated…
the second highest income in collaborative research with industry in 2018/19 across all UK regions.
Funds
In Glasgow, there are many types of investment, funding, and grant options open to companies in the life sciences sector. Scottish Enterprise, Scotland's national development agency, can provide access to its Growth Investment Team who invest in and support early-stage companies access a range of finance including bank funding, equity funding, loans and grants.
Gap equity funding of between £10,000 and £1.5m matched by an accredited investment partner.
Gap funding up to 50% of total funding package between £10,000 and £2m.
A mission-led development bank providing patient capital to build a stronger, fairer, more sustainable Scotland. It invests in debt and equity on commercial terms based on project or business needs.
A £102m fund, led by Epidarex Capital, for early stage, high growth, life science and health technology companies. The UK Government has committed £50m through the British Business Bank, with the rest coming from the Universities of Edinburgh, Manchester, Glasgow and Aberdeen, Strathclyde Pension Fund and several global investors.
Talent Pipeline
Glasgow's leading institutions are developing a pipeline of talent for your business now and in the future.
Wth access to the very best talent pool, the city is home to over 8,000 health and life sciences students - the highest of all 11 UK core cities - and feeds an established industry workforce in excess of 10,000 people.
The city region graduate pool in particular is strengthened by precision medicine-specific courses and world-class research centres.
The University of Glasgow houses Scotland's imaging and precision medicine centres of excellence (ICE and PMS-IC), iCAIRD and the £98m precision medicine Living Lab. The university also awards a postgraduate Masters course in Precision Medicine and Pharmacological Innovation, and the MRC Doctoral Training Programme in Precision Medicine.
The University of Strathclyde is exemplary in medicines, medical devices and diagnostics, partnered with the £56m Medicines Manufacturing Innovation Centre in Renfrewshire. The University also houses the Digital Health and Care Institute (DHI).
Sector News
Read all the latest Life Science news in and around Scotland:
Key Team Contact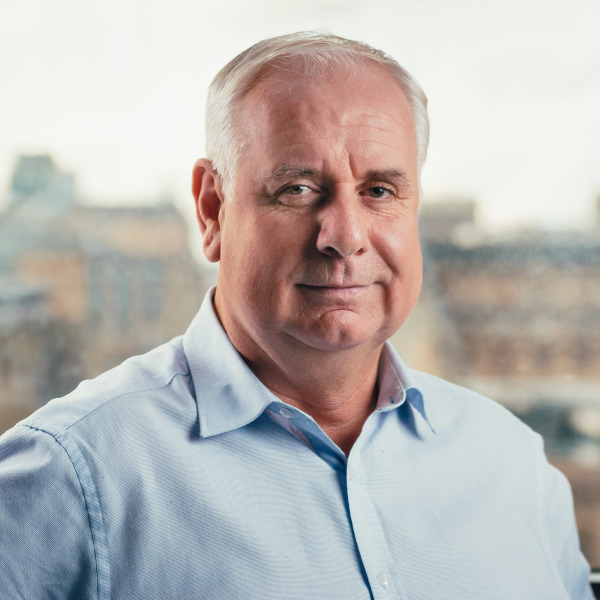 Key Team Contact
Eddie Percy
Senior Investment Officer