BT Group Completes Multi-Million Pound Revamp of Glasgow Office
15th Sep 2023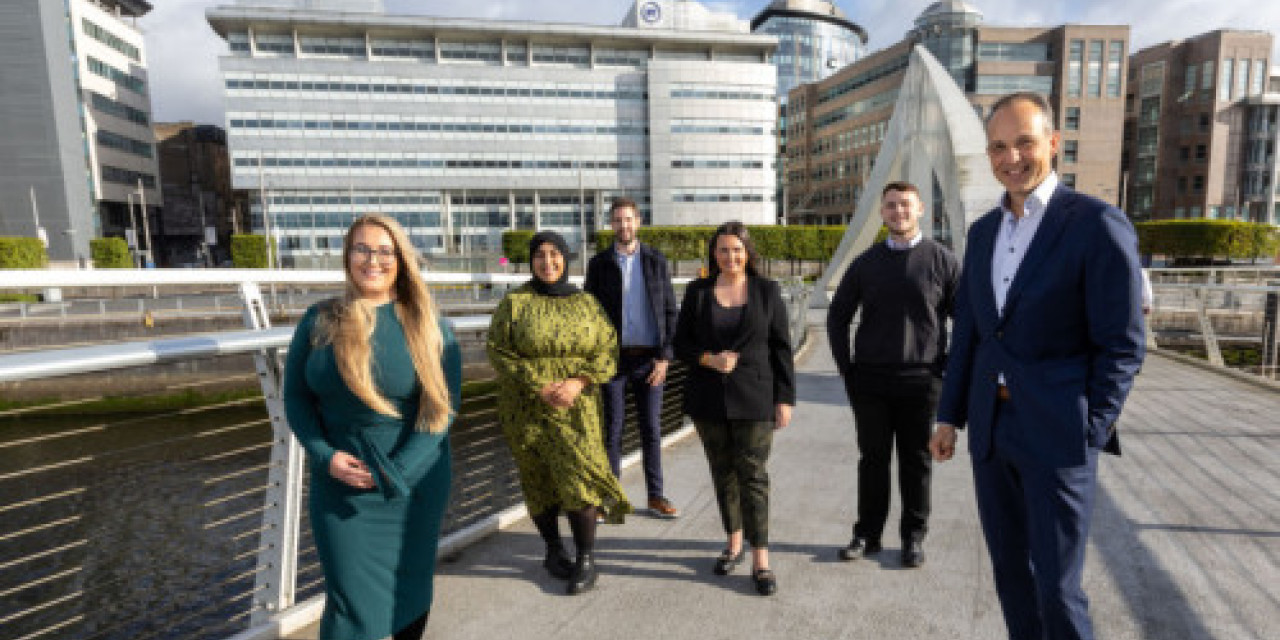 The flagship building reaffirms the company's commitment to Scotland as it launches services to deliver the country's public sector connectivity.
BT Group today reaffirmed its commitment to Glasgow, and Scotland, as it officially reopened its Clydeside building, in the heart of the city, following a multi-million pound refurbishment.
The office, known as Alexander Bain House, which first opened in 2001, is one of the original tenants of Glasgow's International Financial District (IFSD). As a key location in the company's future plans, the significant refurbishment has created a fantastic, modern workplace, which will now be home to around 2,000 colleagues from BT Group, which includes EE, BT and Openreach.
Glasgow was named as a significant long-term location for BT Group in 2020 as part of the company's 'Better Workplace Programme' – the largest workplace improvement and consolidation scheme of its type ever undertaken in the UK. The five-year programme, which will be complete next year, is seeing BT Group rationalise hundreds of its offices across the UK and establish an estate of modern workspaces. The group is also undertaking a multi-million pound development of its new contact centre in Dundee.
The Clydeside building, with panoramic views of the waterfront, is close to transport hubs including Glasgow Central Station, as well as providing cycle parking for colleagues. It boasts state of the art technology, flexible work and collaboration areas, wellbeing and relax and refuel areas. These shared workplaces are central to the company's future, providing environments for colleagues to come together to collaborate, learn, develop and share their experiences. BT Group believes that inspiring office environments, combined with a flexible approach to home working, will play a vital role in its future and in the local economies of its key hub locations.
Brent Mathews, BT Group's Property & Facilities Services director, added: "We're really excited for our colleagues in Alexander Bain House following this multi-million pound investment in our Glasgow flagship office. We're bringing our people together in an impressive and modern environment, transforming the way our teams work to benefit our colleagues, customers and shareholders.
"We really want our colleagues to be proud of where they work and to feel part of something brilliant, inspiring them to continue to do the best that they can for our customers.
"This investment also marks a significant commitment in Glasgow and in Scotland. As a major employer in the city, our presence will support local economic growth and employment opportunities. It also demonstrates our continued commitment to leading the way in connecting Scotland, unlocking a new era of connectivity with the launch of the SWAN website and services."
Councillor Susan Aitken, Leader of Glasgow City Council, said: "Glasgow is one of the UK's most successful centres to do business, with an increasing international profile and reputation as a leader in attracting and retaining talent and a skilled workforce.
"This multi-million-pound investment by BT Group in its Glasgow HQ really enhances our competitiveness, adding real value to our city and its economy.
"BT Group's original decision over 20 years ago to locate a major headquarters in Glasgow was a real vote of confidence in a changing city. This latest investment by a truly global organisation reaffirms that commitment and it's clear that BT Group appreciates the value of its long-term presence in our city."
The business is also making record investments in next generation networks, such as full-fibre broadband via Openreach and 5G via its mobile network EE. This once in a generation upgrade to Scotland's digital infrastructure will support the region's economic growth ambitions and ensure Scottish businesses and public sector organisations are able to take full advantage of the latest technologies and digital possibilities.