Virgin Hotels Glasgow Opens at Iconic Clydeside Location
22nd Aug 2023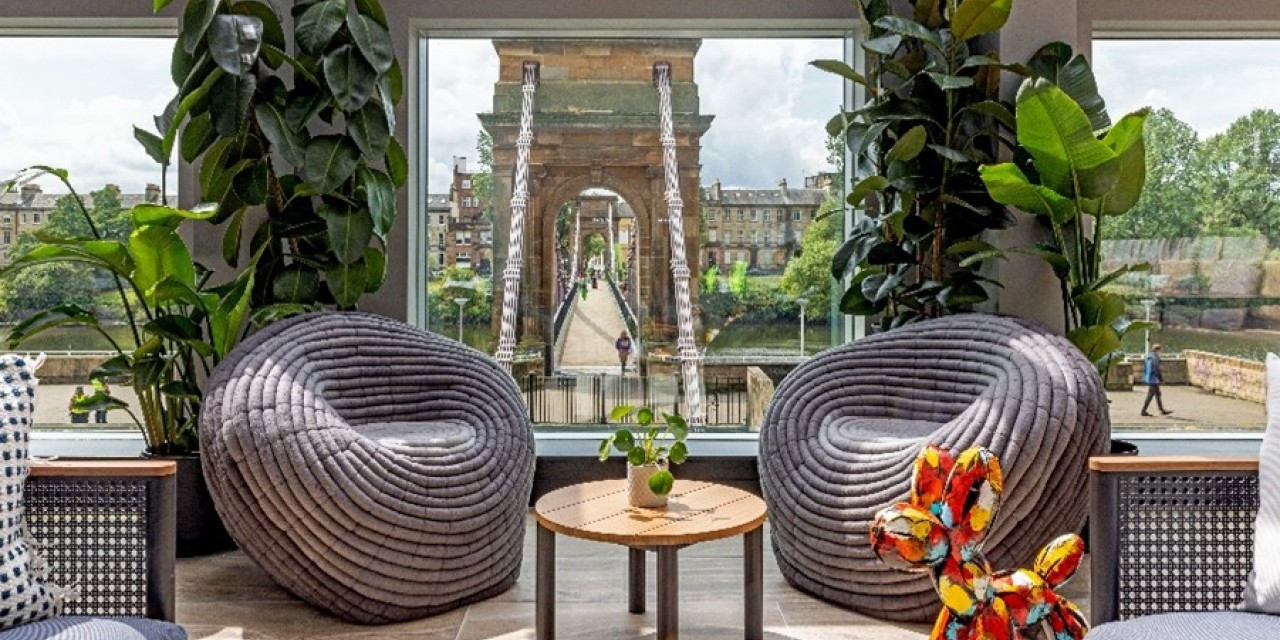 Virgin Hotels, the luxury lifestyle hotel brand by Virgin Group founder Sir Richard Branson, has announced the opening of its second European property, Virgin Hotels Glasgow, set upon the banks of the city's iconic river Clyde. The hotel pays homage to Glasgow's rich cultural history in its design.
The launch sees the opening of chambers as well as modern dining and drinking venues, including Virgin Hotels' flagship restaurant and bar, Commons Club. Under the direction of Executive Chef Jean-Paul Giraud, who previously held Head Chef at The Spanish Butcher, Commons Club restaurant's contemporary menu draws inspiration from around the world, combining unexpected ingredients with bold flavours. The bar at Commons Club serves a selection of playful, signature cocktails in a beautifully designed setting, as well as an impressive range of Scottish whiskies, liquors, beer and wine.
On the mezzanine level of Commons Club, Virgin Hotels Glasgow will also be opening its all-day dining and entertainment destination, Highyard, which offers breathtaking views of the river Clyde thanks to its beautiful, elevated terrace. With its retractable roof, it's destined to become the new go-to spot for Glasgow's buzzing social scene, allowing guests to bask in the warm sunshine whilst enjoying brunch or a cocktail under a starlit sky. Better yet, the Highyard terrace has been fitted with two living walls, making it feel like a true urban jungle retreat.
Virgin Hotels Glasgow also offers an array of state-of-the-art meeting and event spaces which can be seamlessly tailored to suit everything from social occasions to corporate gatherings, including the dynamic Bonnie and Clyde meeting rooms as well as the intimate Shag Room, which poses as the perfect space for private gatherings and social occasions.
The hotel's Vice President Creative Director, Teddy Mayer, worked closely with Silk Property Group to bring to life Glasgow's historical ties to the shipbuilding industry in the design of the hotel, infusing nautical elements with a modern twist, the hotel showcases contemporary elegance, capturing the essence of Glasgow's vibrant spirit.
The exquisitely decorated chambers are flooded with light and every detail has been considered. Wood-sliding doors separate the sleep and relaxation lounge from the dressing area in every room, giving guests optimal privacy. The dressing room features a stand-alone vanity unit with a mounted illuminated mirror and the lounge itself has a Virgin Hotels' patented ergonomically designed bed with a channel-tufted headboard; Hypnos™ mattress; a red SMEG® mini-fridge generously stocked with local products; plugs in all the convenient places; a HD TV and a yoga mat.
In collaboration with Visto Art, the hotel has been decorated with beautifully bespoke artwork by local Scottish illustrators, painters and photographers. Each of the diverse pieces were inspired by Glasgow and its history, from the impressive street art mural in the corridor near the hotel's reception which has been spray painted by various street artists from Glasgow, to the Art Friezes in the Highyard restaurant which are an abstract depiction of Glasgow.
Next year will see the opening of two further dining and drinking spaces; Funny Library Coffee Shop and Rocks on Fox Street – a luxurious whisky bar that is set to have one of the finest whisky collections in Glasgow.
Today marks a momentous occasion as we proudly unveil our Glasgow location, a remarkable addition to our growing family of hotels. At Virgin Hotels, we are driven by our passion for delivering innovative design and heartfelt service, and our latest opening is no exception. Every detail has been curated to reflect the dynamic and diverse essence of Glasgow, and we hope the property will not only be a home away from home, but a door to the incredible experiences within this exciting city.
James Bermingham, Virgin Hotels Collection CEO
We are thrilled to bring the Virgin Hotels experience to Glasgow, a city known for its rich cultural heritage and warm hospitality. Virgin Hotels Glasgow will redefine the concept of luxury accommodation, offering guests an unmatched level of service, exceptional culinary experiences, and a stunning setting overlooking the Clyde. We look forward to providing a memorable stay for our guests and becoming an integral part of Glasgow's vibrant hospitality scene.
Tom Gibson, General Manager of Virgin Hotels Glasgow
Virgin Hotels Glasgow marks the group's second destination to open in Europe, following the success of Virgin Hotels Edinburgh which officially opened in March this year. It joins the esteemed roster of Virgin Hotels worldwide, which includes iconic locations in New York, Las Vegas, and Chicago, each renowned for their unique blend of style, innovation, and unparalleled guest experiences.