Buchanan Wharf Reaches Completion
22nd May 2023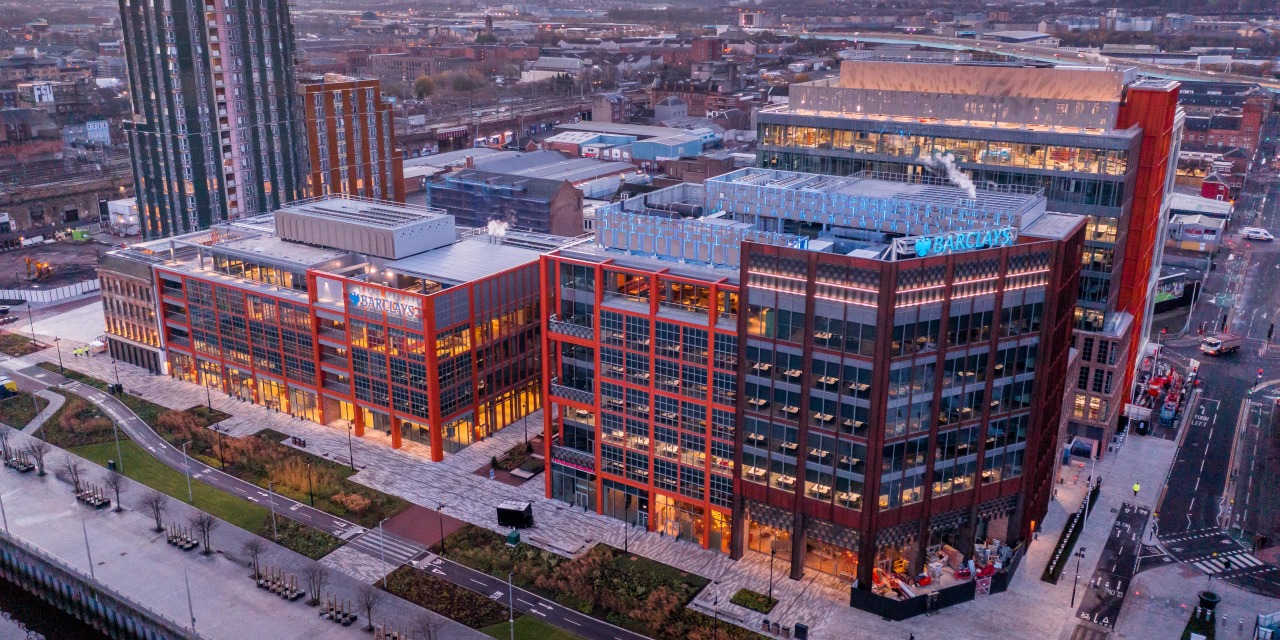 Delivery of new Student Loans Company HQ marks the completion of Buchanan Wharf and this phase of Clydeside regeneration.
The final building phase at Drum Property Group's £500 million regeneration of Buchanan Wharf on Glasgow's Clydeside has reached practical completion with the successful delivery of the new office headquarters for the Students Loans Company (SLC).

SLC will now progress the internal fit-out of the six-storey, 75,000 sq ft building with occupation scheduled for autumn this year. SLC staff are now set to relocate to the purpose-built complex from its Bothwell Street office as part of a 20-year deal.

The build was forward funded by Legal & General Investment Management Real Assets, providing another regional government office for the company's portfolio and strengthening its ongoing relationship with Drum Property Group.

The completion of the SLC building represents the final piece in the jigsaw for the Buchanan Wharf site, one of Scotland's largest ever development projects. The site provides a mix of local amenities, cycle lanes and landscaped public spaces on the banks of the River Clyde and is already home to Barclay's state-of-the-art Northern European campus HQ and the award-winning Solasta Riverside, an 18-storey, 324-apartment residential complex also owned by Legal & General.
The practical completion of the Student Loans Company's new office complex finally realises Drum's ambitious five-year vision for Buchanan Wharf. We have now successfully transformed a neglected industrial brownfield site into a thriving living and working community, re-energising this waterfront area and once again making the River Clyde an integral part of Glasgow city centre.

Buchanan Wharf is one of Scotland's largest and most important commercial and residential projects, delivered whilst facing the extreme economic and logistical challenges created by the pandemic. The project is now recognised as a development of national significance and sets the direction of future regeneration of Glasgow's city centre.
Graeme Bone, Group Managing Director of Drum Property Group
The new Student Loans Company headquarters supports the organisation's vision and mission to continue to enable student opportunity and deliver an outstanding customer experience to its eight million customers. SLC colleagues played a lead role in the design of the new office space to optimise opportunities for collaboration and blended working to deliver a new flexible office experience.
This is not only an important milestone for us but for the wider development which has reached its practical competition. Buchanan Wharf has transformed the landscape of this part of the city and it's been great to watch our building progress over the last year. To reach the point where we can start to fit out our space, creating a collobrative and modern working experience for our colleagues, is really exciting.

We are starting to bring our vision to life and we are looking forward to becoming part of the Buchanan Wharf community later this year.
David Wallace, Deputy Chief Executive at the Student Loans Company
The investment by Legal & General Investment Management Real Assets demonstrates the company's continued commitment to UK regions, levelling up and the growing strength of regional hubs across the country.

Neil Dovey, Head of Annuity Transaction for LGIM Real Assets, said: "This investment demonstrates our continued commitment to regions across the UK and levelling up, particularly as part of a mixed use regeneration opportunity, and adds another high quality government building to our portfolio."